If you enjoy making scrapbooks or greeting cards, you probably have a few paper punches and a paper trimmer in your stash of crafting supplies. With a few pieces of colored card stock, a file folder, and some paper punches, you can create this simple paper punch nativity scene with your kids.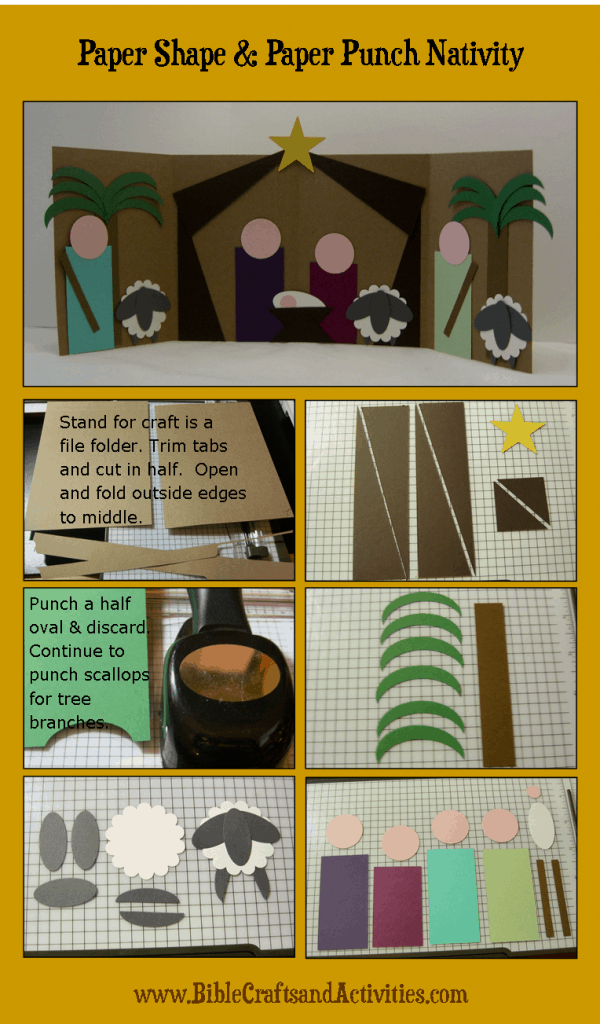 Follow the instructions and images below.
Supplies:
File Folder
Colored Card Stock
Paper Trimmer
Circle Punches
Oval Punches
Scallop Circle Punch
Star Punch
Trim tabbed edges from file folder
Cut file folder in half
Fold outside edges of folder so that they meet in the center
Sheep—For each sheep, punch a white scallop circle and four gray ovals—Cut one of the ovals in half for feet
Stable—Cut two strips of brown 4 1/2" x 1 1/2" inches—Cut in half at a diagonal
Star—Punch a yellow star or create a star with two triangles
Manger—Cut a brown 1 1/2" square—Cut in half
Joseph and Shepherds—Cut three rectangles 1 1/2" x 3 1/2" and punch three 1 1/4" circles
Mary—Cut one rectangle 1 1/2" x 3" and punch one 1 1/4" circle
Baby Jesus—Punch one small oval and one 1/2" circle
Shepherd's Staff—Cut two brown rectangles 1/4" x 3"
Palm Trees—Cut two brown rectangles 1/2" x 4"—Punch half of a large oval in the edge of green card stock—Shift the punch up about 1/4" and punch six scallops for tree branches/leaves
Glue all pieces together as shown below.