Today's post is from a guest blogger, Mary-Kate Warner from Christianity Cove, sharing a timely angel Christmas craft and message.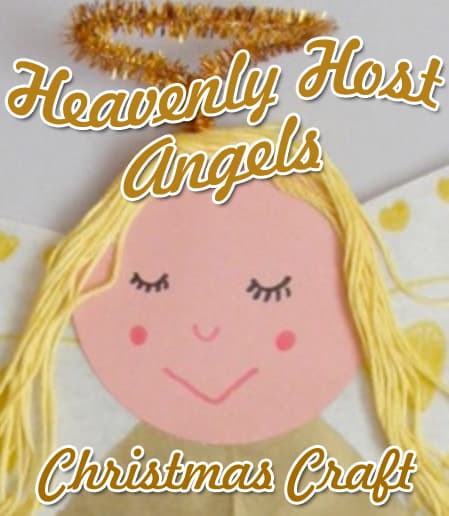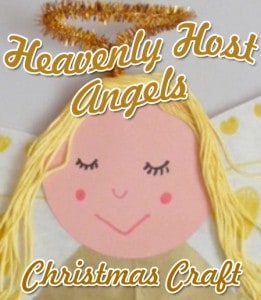 Luke 2 tells of the famous siting of a heavenly host of angels by the shepherds in that region. Having your class create a heavenly host will provide a great opportunity to tell that story again and make the students feel a part of it.
Materials
Thin craft paper in skin tone (light pink will work)
Thread or wool yarn
Gold tissue paper
Gold pen
Tracing paper
Gold pipe cleaner (chenille stem)
Felt tip pen
Glue stick
Felt tip pens
White tracing paper
Introduction
Angels were not only present the night Jesus was born, but they came out en masse! Luke chapter 2:8-15 tells the story:
And there were shepherds living out in the fields nearby, keeping watch over their flocks at night. An angel of the Lord appeared to them, and the glory of the Lord shone around them, and they were terrified. But the angel said to them, "Do not be afraid. I bring you good news that will cause great joy for all the people. Today in the town of David a Savior has been born to you; he is the Messiah, the Lord. This will be a sign to you: You will find a baby wrapped in cloths and lying in a manger."
Suddenly a great company of the heavenly host appeared with the angel, praising God and saying,"Glory to God in the highest heaven, and on earth peace to those on whom his favor rests."
When the angels had left them and gone into heaven, the shepherds said to one another, "Let's go to Bethlehem and see this thing that has happened, which the Lord has told us about."
Instructions
1. Draw the shape of angel wings on tracing paper. One way to do this is to draw a heart (size depends on how large your angel will be).
2. Cut the heart in half. Each half will be a wing.
3. Decorate the wings with gold tip pen and glue to angel's shoulders.
4. Cut strands of hair from yarn. Most people imagine that angels have gold hair, but angels can have red, black or brown hair. Use your imagination.
5. Draw eyes and mouth on the angel's face.
6. Make a cone shape out of white construction paper for the angel's body.
7. Fold the pipe cleaner in half and form a loop in the center. Twist the ends together and glue to angel's head (see illustration).
8. Place your host of angels over the windows for a week or two. The sun will shine through and make them glow.
Conclusion
Many angels were present at the birth of Jesus. But we need to remember that there are many angels present with us today. They live in heaven but they visit and surround us. We cannot often see them, but we can take God's word that they are there.
Psalm 91 promises this for all those who love God: "He will command his angels concerning you to guard you in all your ways; they will lift you up in their hands, so that you will not strike your foot against a stone."
You are free to ask Jesus for the protection of angels any time you feel unsafe or afraid—not just at Christmas time, but all year long!
Mary Kate Warner
Mary-Kate is a regular blogger at Christianity Cove ( http://www.christianitycove.com/).  You can often find her writing about Christian Motherhood, Homeschool Teaching, Bible Study and Sunday School Activities, Faith and inspiring children to love God.