When you are ready to teach a lesson about The Birth of Moses, these activity pages are a great resource.
They are engaging and provide opportunities for discussion about God's attributes of Savior and Rescuer in this story.
These printable activity pages are great for preschool, kindergarten, and early elementary-aged children.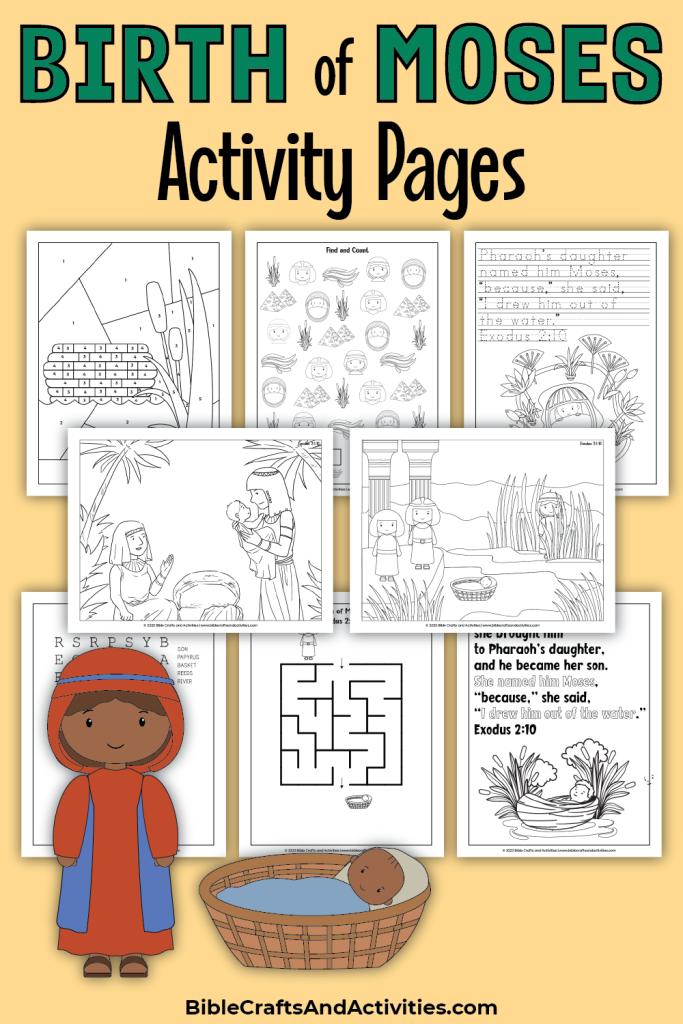 Passage – Exodus 2:1-20
Title – The Birth of Moses
Lectionary Reference – Year A Proper 16
Target Age Group – Ages 4 to 10
Focus Verse – Exodus 2:10
Bible Verse Pages
You'll find the focus Bible verse for these pages in Exodus 2:10.
When the child grew up, she brought him to Pharaoh's daughter, and he became her son. She named him Moses, "because," she said, "I drew him out of the water." NRSV
The verse pages include one page to read the verse and color and a second page offering the verse as copywork.
Coloring Pages
The Color By Number page features Moses' basket floating in the Nile River. You'll find two versions of the coloring page featuring Pharaoh's daughter looking at baby Moses.
Coloring pages and copywork offer several benefits for young children. Coloring pages develop creativity and fine motor skills as kids choose colors and apply them within the lines, fostering artistic expression. Copywork enhances their handwriting and spelling skills as they trace or write words or sentences.
Word Search Puzzles
You'll find easy and hard versions of the word search puzzles featuring words from the lesson passage.
Word searches are a fun and engaging way to learn new words and concepts, making them an effective educational tool.
Puzzle words include – son, papyrus, basket, reeds, river, sister, daughter, pharaoh, maid, mother.
Take time to discuss the characters, objects, and concepts included in the puzzle.
Maze Pages
You'll find easy and hard versions of the maze pages, which feature illustrations of Pharaoh's daughter and Moses in the basket.
Mazes offer a multitude of benefits for children. They promote critical thinking and problem-solving skills as kids navigate the twists and turns to find the correct path to the exit. Mazes also enhance spatial awareness and fine motor skills as they carefully follow the lines.
Take time for a quick story review and discuss thoughts and feelings of Miriam, Jochebed, and Pharaoh's daughter.
Find and Count Puzzle
The Find and Count or "I Spy" activity page features illustrations from the Bible story. Images include pyramids, bulrushes, water, Pharaoh's daughter, Miriam, and Moses in the basket.
This type of activity page sharpens observation and attention to detail skills as kids search for specific objects within a cluttered scene. A Find and Count page promotes patience and concentration, helping improve focus and cognitive abilities.
Use this activity page to review and discuss the elements of the story.
Teacher Preparation
To simplify your study time, use the Inductive Bible Study Guide page as you read and review the story and related passages.