Create your own DIY nativity set from paper or felt using one of these printable patterns.  Choose one the children can color themselves, trace the template onto felt, or print one in full color.  Find the set that best fits the children in your home or class.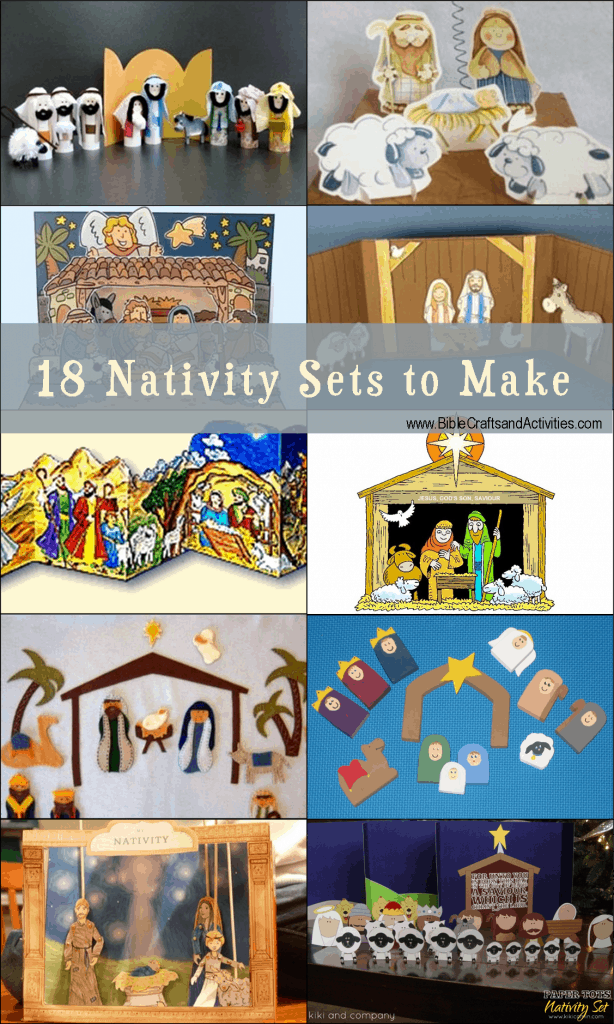 Toilet Paper Tube Nativity from Amy's Free Ideas
 3D Nativity Card Scene from Amy's Free Ideas
Cut and Glue Shape Nativity Set from 2 Teaching Mommies
Felt Nativity Set with Pattern from Stay at Home Educator
 Printable Nativity Set from Kiki and Company
Pattern for Wooden Set from Jill Made It
Color Nativity to Print from With Blueberry Heart
Kid-Made Nativity Set using Toilet Paper Tubes from Musings in Adelaide
Nativity Set to Color and Put Together from ColegioPadreCollado
 Simple Nativity Finger Puppets from Delia Creates
Bright Nativity Set to Print from Marloes de Vries
Nativity Stick Puppet Theater from Sarah Jane Studios
Nativity to Print and Glue from Lucy Paint Box
Nativity Hand Puppet Pattern Set from Embellish Goods
Printable Nativity Finger Puppets from Hart of the Mountain
Christmas Story Accordion Book to Print and Color from Emmanuel.org.ua
Christmas Pop-Up Nativity Card from My Little House
Full Nativity Set to Print and Glue Together from Richard Gunther at MightyMag
If you need a simple shape nativity craft for your toddler or preschooler, check out this one that includes a free pattern to download.