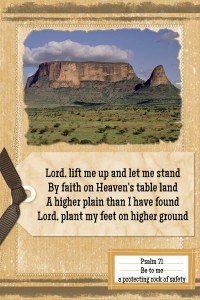 Creative
When I think of God as my rock of protection, this hymn always comes to mind.
Lord, lift me up and let me stand
By faith on Heaven's table land
A higher plain than I have found
Lord, plant my feet on higher ground
-Iris Dement
God places my feet on a high place, close to Him, where no one else can reach me.
You can download the printables page here.
Commentary
David repeats these words again and again – refuge, rock, fortress. God has known him from before his birth and David realizes that is why he can praise Him. David's life is an example to many because God has been his strength and protection. Is my life an example to many? Do I declare God's glory all day long?
Even in old age, David hopes, praises, and proclaims. He is overwhelmed by how much God has done for him. Do we ever spend long enough in thought to be overwhelmed by God's great love and good deeds.
Our God is above all.
Images
Rock, turn your ear, set me free, clutches of oppressors, from birth to old age, proclaim, teach, harp and lyre
Hymns and Songs
Out of my bondage, sorrow and night
Share and Enjoy