Creative
I used a faded image of a guarded castle parapet as the background for this page. The three elements symbolize shields to me. How often I need to be reminded that God is my refuge and strong tower. I don't need to do things on my own, but wait on Him.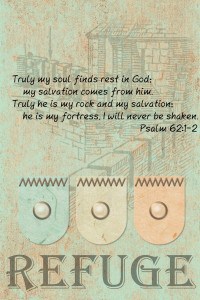 You can download the printables page here.
Commentary
You are safe with God.
What a comfort these words are to me. No matter what is happening to me or around me, I am safe with God. I found this phrase in the Psalm 62 devotion shared by author Karyn Henley in her children's devotion book, Day by Day Devotions: A Summer of Psalms
.
God alone is enough.
The rest of today's commentary comes from Rolf Jacobson who provides insight into a rarely used Hebrew word – 'ak.
When it comes to Psalm 62, the careful reader might observe a very small Hebrew word — which seems to occur quite a lot in this short poem. Such a reader might notice that the Hebrew word 'ak occurs six times in this short poem.

For comparison sake, the term occurs only 24 times in the entire Psalter — and in each case, the term begins a sentence — which means that 25 percent of the occurrences of the word occur in this short poem. The term carries both a restrictive meaning — "only" or "alone" — as well as an asserverative meaning — "truly" or "indeed."2 The poem plays on the dual meaning of term to make a theological point. Here are the six sentences that begin with the term:

verse 1     For God alone ('ak) my soul waits in silence. . .
verse 2     He alone ('ak) is my rock and my salvation. . .
verse 4     Their only ('ak) plan is to bring down a person of prominence. . .
verse 5     For God alone ('ak) my soul waits in silence. . .
verse 6     He alone ('ak) is my rock and my salvation. . .
verse 9     Those of low estate are but ('ak) a breath. . .

In the translation above, the New Revised Standard Version always takes the term restrictively, meaning always either "only," "alone," or "but." One could also take the term asseveratively at each point — always translating it with "indeed" or "yes" (so the TNIV and also Goldingay).
You can read his additional thoughts about Psalm 62 here.
Is God your safe place? Do you wait on and trust in God alone?
Images
Rock, fortress, refuge, safe place, soul waits in silence, pour out your heart
Hymns and Songs
Share and Enjoy