Acts 1:8 says, " But you will receive power when the Holy Spirit has come upon you, and you will be my witnesses in Jerusalem, in all Judea and Samaria, and to the ends of the earth."
This verse reminds us that we have been given a mission as followers of Jesus Christ. We are called to be His witnesses to the world, starting in our own communities and spreading out to the ends of the earth. We cannot accomplish this mission without assistance. It requires the power of the Holy Spirit working within us.
The Holy Spirit empowers us to be effective witnesses for Christ. He gives us the courage, wisdom, and discernment we need to share the story of Jesus with those around us. He also helps us live lives consistent with our message, demonstrating God's love and grace in all that we do.
As we go about our lives each day, we should intentionally share God's love with those around us, whether through our words or actions. And we should rely on the power of the Holy Spirit to guide us every step of the way.
Focus Verse
When he had said this, as they were watching, he was lifted up, and a cloud took him out of their sight.

Acts 1:9 NRSV
Commentary
The first great act of the apostles occurs when they hike back to Jerusalem . . . and wait.
Indeed, in time the apostles and the rest of Jesus' followers will be moving outward and bearing witness to Jesus in the power of the Holy Spirit. But not yet. In time the realities about which Jesus spoke–the kingdom of God, forgiveness of sins, release from the things that bind people–will come into clearer view.
The waiting period conditions them to be attentive to God, so that they might respond when the time is right.
Diorama Craft
This lesson's craft and activity pages feature the disciples watching as Jesus disappears through the clouds.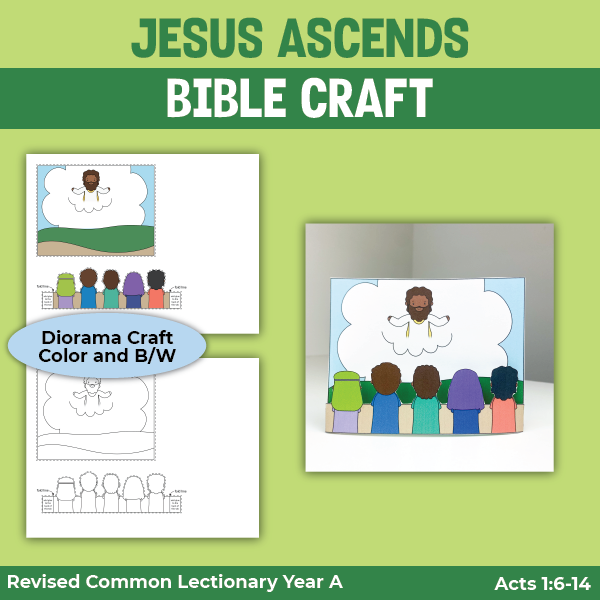 Craft Supplies Needed for Signpost Craft:
Printed copies of craft
Scissors
Glue
Crayons or Markers
For more activities, visit the shop for Jesus Ascends Activity Pack.
The shop also offers Children's Worship Bulletins following a lesson from the lectionary each week.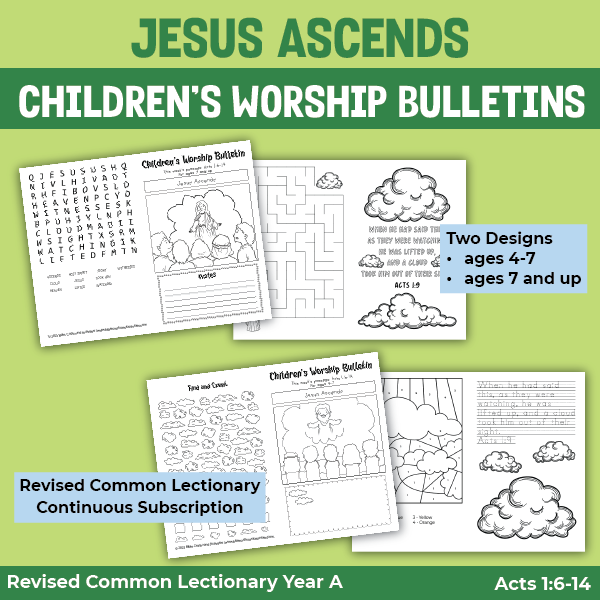 Save to Pinterest