Why is it a blog hop with a difference? You are given 4 questions to answer and you have to invite 3 people you know to blog the following week and invite 3 people. One of my new online crafty friends Bernice of Newly Creative invited me with her post last week.
What am I working on?
As I get ready to launch a blog design and hosting service, I am working on redesigning my sites and creating new sites for friends to build my portfolio. Through the process, I am discovering some great online tutorials for customizing WordPress sites and learning how to modify php and css files. It is so much fun to change a piece of code, click the refresh button, and see the page reflect the update on my screen.
I am the craft lady for the Sparks students (ages 5-8) in our Wednesday night Awana program. This is a Bible memory and discipleship program that meets weekly throughout the school year. I plan a craft activity each week to coincide with the Bible story. Last week we created an image of the earth with coffee filters, blue and green markers, and a spray bottle filled with water. I used an iron and an old towel to quickly dry the filters.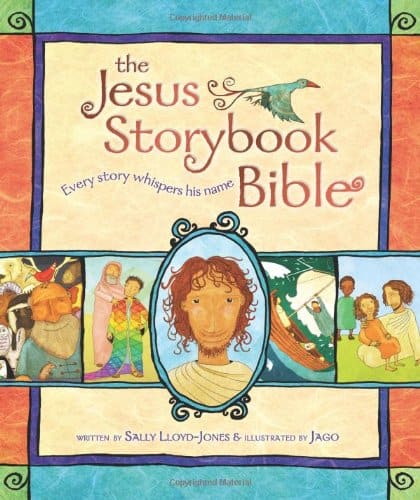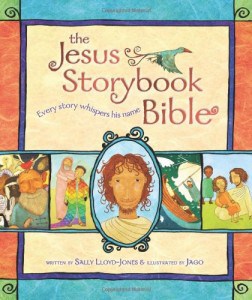 On Sunday mornings, I teach the preschool class (ages 2-5). I've chosen the Jesus Storybook Bible as the primary resource for our curriculum this year. I tell the story using the Kindle version of the book on my iPad. Since we usually have very fidgety kids, I'm finding or creating an item for them to hold in their hands during the story each week. For the story of creation, I purchased foam globes. For the story of sin entering the world, I painted some small wooden hearts and added a smiling face and a frowning face on opposite sides. I emphasized that God always loves us even when we disobey and make Him sad.
As Bernice mentioned, I'm also hosting a Psalm study on my blog this year. I write a short devotional each week and create an art journal page (often digital). This has been a great gift to me this year to keep me consistently in the Word.
How does my work differ to others of its genre?
I love both digital and hands-on paper crafting. For children's projects, I want to give them the opportunity to cut and glue and have something to take home that helps them to retell the story to themselves and their family. This blog focuses on finding crafts to accompany each story from the Bible instead of just coloring pages and word puzzles.
The ease of digital (and my cluttered craft desk) has turned my creative energy toward computer tools for scrapbooking and art journaling. My Psalms pages are sized 4 x 6 so I can print them and include them in a small album.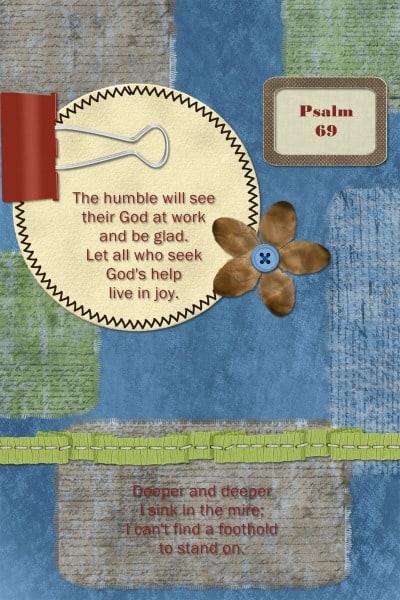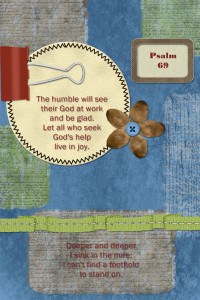 Why do I write/ create what I do?
I started the 52 Weeks of Psalms project to hold myself accountable this year. God has blessed my time with Him in this book.
I enjoy being a resource for others. Long before Pinterest, I was collecting and categorizing online bookmarks for Sunday School crafts and scrapbooking and other paper crafts. This blog started as a way to share those crafts in an organized manner.
How does your creating/writing process work?
I usually create best against a calendar deadline. I research and collect ideas either online or from my bookshelf adding sticky notes to the pages. Then when the deadline arrives, the creating begins.
Thanks for reading through my projects and process.
Let me introduce you to three friends: Jacki, Erin, and Kristen who've been tagged to post their responses on Monday, September 29. Do hop over to see them.
Jacki blogs at the Jesse Tree Project and has published a book by the same name – a 24 day devotional from creation to Christ's birth. I met Jacki at The Declare Conference in Dallas this past August.
Erin blogs at A Bird and Bean about crafting, cooking, and creating. She also teaches ESL to middle school students.
Kristen blogs at Celebrate Every Day With Me offering creative ideas for children's activities, party planning, and creating memorable moments. She has published an ebook about 99 ways preschoolers can learn to serve and bless others.
I met Erin and Kristen at Bloggy Conference in Sandusky, Ohio.
Blessings,
Merri